Two entries were found in the USDCAD today.
Overall traders have something to be excited about once again.  It was getting a little boring wondering whether or not Janet Yellen would provide the markets with any hint of the next U.S. interest rate hike and hearing the same rhetoric.  Now, the markets will be very active as a result of the Brexit vote with no one clearly understanding all of its potential repercussions.  It is important for traders to trade not what they think…but what they see and to trade in the context of the current market psychology…and for greater probability…with the trend.  The market psychology has just changed!
Although we are no further ahead in knowing when Janet Yellen will hint at the next raise of U.S. interest rates, we do know traders will be focused on taking less risk while trying to determine the current and longer term implications of Brexit and the E.U.'s future direction.  In short…trading just got very interesting again!  For anyone who was able to follow along in the Asian session last week as the Brexit votes came in… it was fascinating to watch.
Today as commodity currencies weakened to the USD, a long is taken in the USDCAD with a 17 pip stop loss for a potential 127 pips to our Target 2. As price reversed its Asian moves… we were able to find an entry as price closed bullishly back above its Asian low.  As price pulled back in the middle of its Asian range, our profit stop was hit to close our first trade.  As price advanced upward, we entered long again requiring a 27 pip stop loss for a potential 70 pips to our Target 2 with 3 hours left in our trading session.  When price resisted closing above Target 1, we tightened our profit stop and were taken out just under the Asian session high.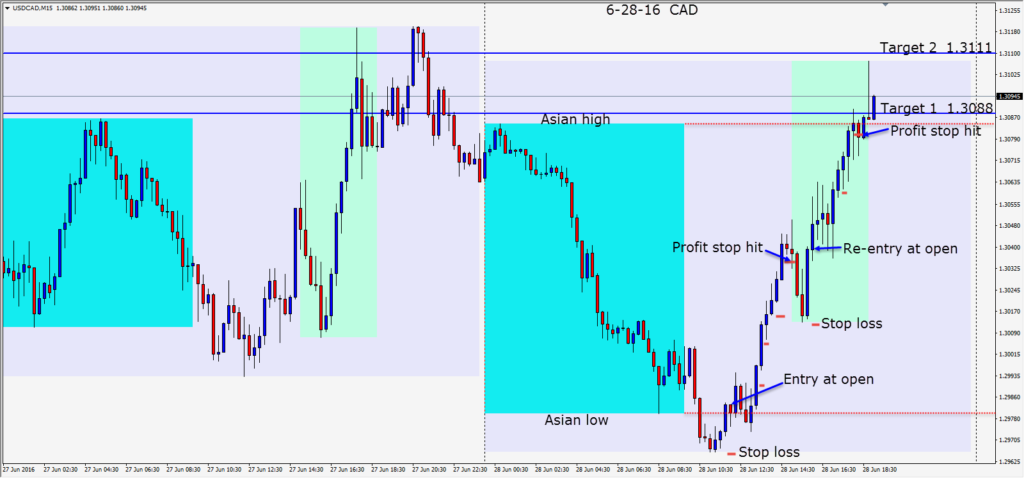 It's nice to know that despite it being summer, the markets will be offering some great trading going forward.  One of the great things about trading is it rarely gets boring… for long.  Even when it is a little dull…opportunities exist to make money.
Good luck with your trading!