UK traders move the EUR up and the US traders move the EUR down! A fairly light economic news session ends the first half of the trading year.
The EUR reversed off its session high with a big wicky candle. After the close of the next candle a short trade sets up. An initial stop loss half way up the wick, creates a better than 3:1 Reward to Risk to our Target 2. Price penetrates through the Asian session high, before testing yesterday's high leaving another wicky candle. By adjusting our stop loss to plus 1 pip, we remove the risk from the trade. Price then drops to the Asian session low and pauses. We move the profit stop to just above the early session lows. Price continues to drop further through our Target 1 – almost making it to Target 2. Once it does penetrate our second target, the profit stop is adjusted and the trade is closed as price retraces upward. Price subsequently bottoms for the session near yesterday's low – to end the first half of trading year.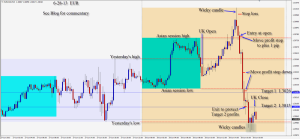 Looking forward to the second half of 2013.
Enjoy the weekend!
Back Tuesday if we find a trade.