The AUD rallied with an active Asian session.
Both the AUD and NZD can be sensitive to UK and EURO zone economic news. In advance of the UK news the AUD rallied, then sellers began to enter above the Asian session high.
This is one of my favourite setups and it required a 15 pips stop loss. As price trends downward for the session, we anticipate riding it down to the Asian session lows – locking in our profits as we go. With the US holiday today, we don't expect an active overlap for the latter half of the session. A large wicky candle forms and we tighten our profit stop… as they are frequently indicative of a pending reversal. We are subsequently closed on the minor retracement. Faster fingers may have locked in a bit more profit.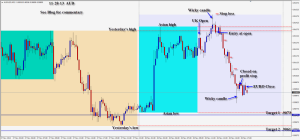 After a frustrating week last week, this week has been much more productive with both the NZD and AUD setting up daily.
Good luck with your trading!
Back tomorrow if we find a trade.