The USD strength theme continues as the week comes to a close.
A series of lower highs in the EUR and a 4:1 Reward to Risk ratio helped create a compelling entry just below the 1.2750 options level. There were clearly no buyers near the Asian highs and after a second lower high we enter short with a stop loss just above the session high. I don't like entering trades in the middle of the Asian range, but we had cleared 1.2750 level and the stop loss was inexpensive.
Price moved down to test and retest the Asian low. In advance of the US Final GDP number, we move our stop loss down to plus one pip – also known as the "stress free area". Price continues to move down and retest the Asian lows once again and we allow a few pips of wiggle room at this level. Price descends to our Target 1 and closes below it. We exit a little early on the next candle as price bounces up over Target 1. Price in fact was coming up to retest yesterday's low, but we exited not wanting to give back any more pips.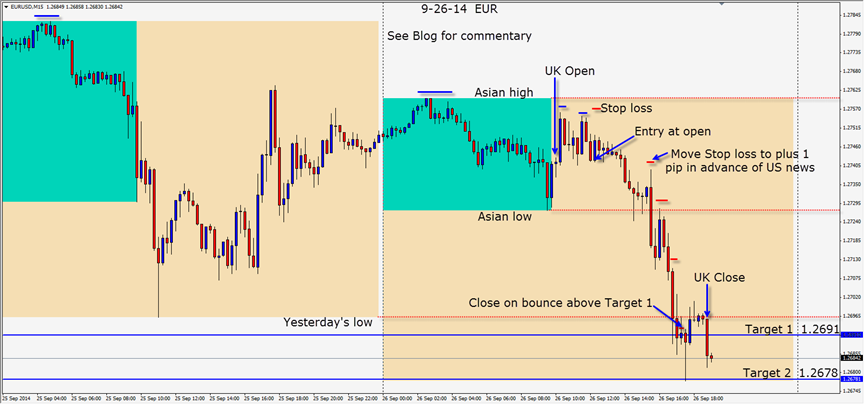 Trading for the month of September has been excellent. There have been multiple pairs to trade in the majors and overall the trading has been straightforward. When you are looking for a trade – look for a nice trending pair and fine tune your entry. If there are 2 pairs that are trending nicely, have lots of institutional interest, choose the pair that allows you the smaller stop loss and better Reward to Risk ratio. If you like trading the EUR and miss an entry, look for an entry on the CHF as it moves inversely to the EUR. If you miss an entry on the AUD, you may find one in the same direction on the NZD as these pairs tend to move together.
Trading is about probabilities. Find your edge, manage risk, be consistent and KEEP IT SIMPLE.
Good luck with your trading! Enjoy your weekend.
Back on Tuesday if we find a trade.
Questions – please email Michael@privateforexcoaching.com