We will have to wait for the markets to interpret President Trumps speech before Congress tonight to see whether the USD can get some long awaited strength.  A number of the majors are at important technical levels so large moves may follow.  The question is whether those moves will be up or down?  We also await Janet Yellen on Friday for any clues as to an imminent U.S. rate hike.
The USDJPY moved down during the Asian session and ran into sellers as it attempted to rise early in the UK session.  As it appeared to roll over… a short was taken risking 12 pips for a potential 41 to our Target.  Price broke through its Asian low, retested the level and moved lower again going back and forth in advance of the U.S. open.  After price tested the 112.00 figure and bounced, our profit stop was hit.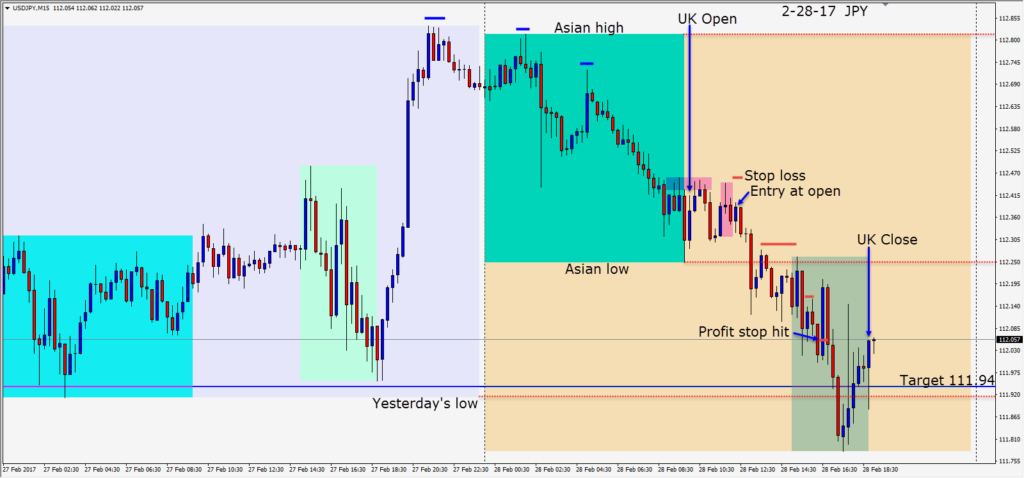 It will be interesting to see how the pair reacts tomorrow after the President Trump's speech.  If price takes out 111.85 and 111.55 – it appears technically like it has potential for a large drop.  If it gets back above 113.00 – I will be looking for long setups.
Yellen will be speaking an hour after the U.K. close on Friday…so there is still time for some large moves between the president's speech and her's.
Good luck with your trading!