The AUD set up beautifully for a short early in the US part of the session.  After it failed to challenge the Asian high and classically reversed – an entry short is taken.  What makes this trade setup more powerful is what the institutional traders were seeing on their charts.  If you know how the  institutional traders are interpreting their charts, you would enter this trade with a very high degree of confidence!  Their charts are very simple – no oscillators or nonsense indicators below the charts or silly arrows, Bollinger bands etc. on their charts.  All of that junk is strictly a retail myth, very cleverly marketed and a nightmare for anyone trying to clearly interpret where price is going.  This is why retail traders tend to blow up their accounts!
After 3 lower highs (a powerful signal) and with the trending USD strength, a short is entered with a 12 pip stop loss and a potential 75 pips to our Target 2 which coincides with the .8100 figure today.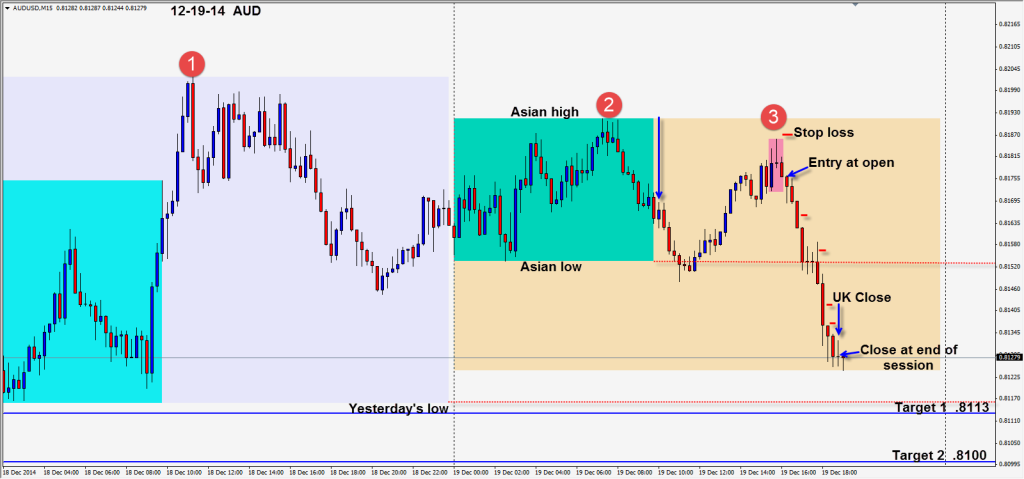 As price continures down we move our stop loss down locking in profit and taking any stress out of the trade.  As the session ends, we exit and that is it for our year.  For anyone who is active next week and following this pair…be aware of the May 2010 low of approximately .8066 level.
Volumes will be down over the next 2-3 weeks but there is still lots of liquidity.
I hope everyone has a wonderful holiday season!!!  We will be back in early January.
I received an email today from a former student who has worked hard (hint) at becoming a very successful trader.  I have his permission to share this quote.
"I ended the year great in trading and this month was a record for me, no losses!  Man what a feeling that is…."  from Doug W. in Atlanta, Georgia USA
This is why I teach trading.  I wasted years and thousands of dollars learning what doesn't work in forex trading – buying into retail myths and cleverly marketed courses by guys who have never traded. To hear of the success of one's students is what every teacher  strives for!!!  Not everyone is cut out to be a trader.  It is not easy and it's not for everyone!  If you put the work into it and learn what it is that institutional traders pay attention to…you will be much more successful.
All my best for the New Year!
Michael