Be careful trading at the end of the month or end of a quarter.
The GBP had a nice move down overnight before reversing sharply to the upside. After hitting Target 1 there was a long lower wick, followed by a bullish candle with another longish lower wick. This looked like an imminent reversal. The third candle confirmed the reversal with a very long lower wick and very strong bullish close. This was enough for me to close the remainder of the position.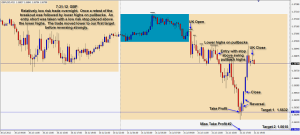 Good luck with your trades!
Questions are always welcomed.