There were several nice trade setups during the UK session and the GBP caught our eye for a refreshingly quick trade. After failing to stay above the Asian session high, the pair quickly dropped allowing us a better than 3:1 Reward to Risk ratio trade setup to our Target 2. Price dropped quickly through the Asian session low to our Target 1 and began to reverse. We are in and out within an hour and done for the week.
The US traders began their day by immediately reversing the downside momentum. A nice long set up presented itself but we don't generally like stop losses of greater than 25 pips in the current market range, so we pass on the trade.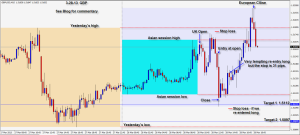 The UK and Europe move their clocks forward this weekend. Next week the trading times will be back to normal.
Enjoy the holiday weekend and good luck with your trading!
Tomorrow is a holiday for us. so we will return on Tuesday.