The EUR will continue to be reactive to any headlines regarding Greece and its staggering inability to repay loan payments and raise additional cash. How Greece's financial woes will eventually be resolved is anyone's guess.  In the meantime, I like looking for setups to short the EUR and if we get some relief rallies along the way, the same applies.  Be very cognizant of previous S&R levels as these will be levels where institutional money will enter, exit, take profits and add to existing positions.
Today the European traders moved the EUR up in the first hour of their trading – running stops above yesterday's high.  After a reversal pattern completed in the UK session, an entry short is taken with a 22 pip stop loss for a potential 102 pips to our Target 2.  Price moved down swiftly and we placed our profit stop about halfway up the previous red candle… allowing for price to drop below the Asian session low and come back and retest it. Unfortunately price did not close below the Asian low before hitting our profit stop and we were closed out.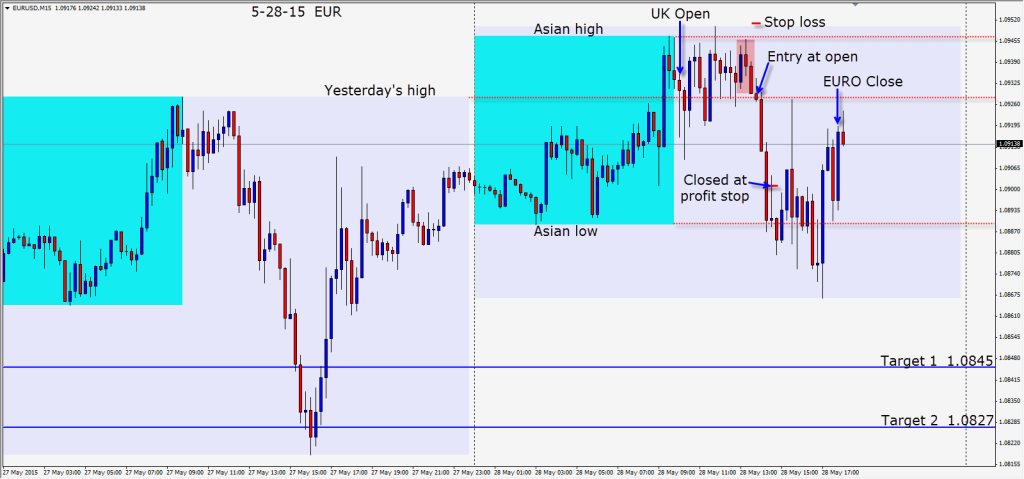 Always be very careful of pending economic news releases and remember it's a lot easier to trade with the trend.  Keep your stops tight and lock in profits as your trades progress.
Good luck with your trading!
Back tomorrow if we find a trade.