The EUR made a nice move from yesterday's high to its Asian session low before reversing. The signals were very clear and the Reward to Risk exceeded our minimum of 3:1 to our Target 2. The USD crosses move very similarly and it was more a matter of choosing your favourite setup.
Always be aware of yesterday's high and low as well as the Asian session high and low. These are critical levels for intraday traders.
This trade proceeded well until it bounced hard off the Asian session low. Not wanting to give back any more pips, the trade is closed the next candle. Although our targets were not hit, we are pleased with the trade. If you know what to look for, then you know when the market presents it… the rest is trade management.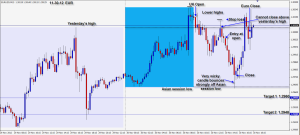 Back Tuesday and it will be a shorter week for us, as we do not trade the NFP Friday sessions.
Have a great weekend!
Questions Michael@privateforexcoaching.com