Very active markets today!  Lots of big moves and a very active Asian session for a number of the pairs.
It's fairly easy to find a short in the EUR and the GBP these days, but be very nimble, keep your stop losses very tight and don't get greedy!
A short trade is taken in the EUR as it stair-stepped downward early in the UK session.  An entry short is taken with a 20 pip stop loss for a potential 90 pips to our Target 2.  We didn't didn't want it to run any further or the stop loss would be too expensive.  This entry allowed for the EUR to dip below the Asian low and retrace upward without taking us out.  Price moved down in dramatic fashion to yesterday's low and bounced above our Target 1 taking us out of the trade.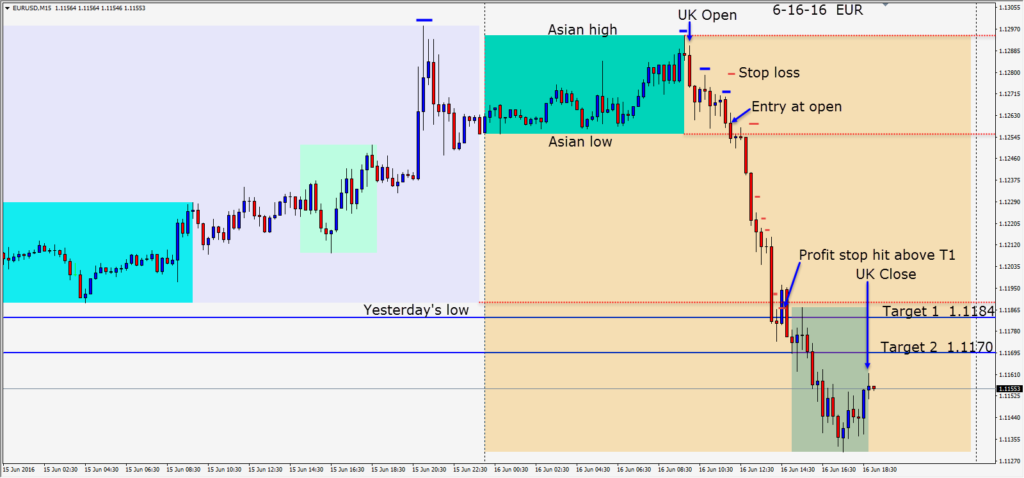 The GBP provided some good returns too, but it was more of an in-and-out and back in, active style of trading.   Be very careful trading the EUR and GBP at the moment.  It will get very interesting next week as the market further assesses the implications of "Brexit Bremain".  If the UK votes to leave the EU, then other European countries will hold referendums too.
In the meantime the data dependent FOMC is not looking to raise interest rates for the moment and the USD had a strong bid tone today.  WTI is much lower this week and taking the Canadian dollar with it.
Good luck with your trading and be careful out there!