Overall Friday was a light news session lacking high impact potential economic releases. The first part of the UK session was lacklustre, but as traders reacted to disappointing US figures, the EUR began to move down. Price moved slowly down re-testing yesterday's low before dropping to our Target 1, where we exit… when price bounces above.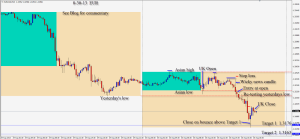 Summer draws to an end and Monday is a holiday in North America. It's been a good summer for trading and we anticipate trading ranges will increase by the middle of September.
Enjoy your weekend!
If you would like to learn some institutional tricks and secrets to trading, please enquire by email about my course.
Back Tuesday if can find a trade.