The USDJPY could not sustain above its Asian highs and although it traded sideways… the bias was to short it.  As the U.S. session approached, a short is taken with an 11 pip stop loss with a target of getting down near the May 5th low.  Our actual Targets 1 and 2 were 105.56 and 105.41 respectively.  We were not thinking it would go much lower than the May 5th low…particularly with the Bank of Japan potentially easing this week.
After the short is taken, we moved our stop loss to plus one pip in advance of the U.S. open.  Price picked up downside momentum as the U.S. session got underway and moved down to its Asian low… where it tested and retested the level before moving lower.  As price bottomed we tightened our profit stop further and were taken out on the bounce.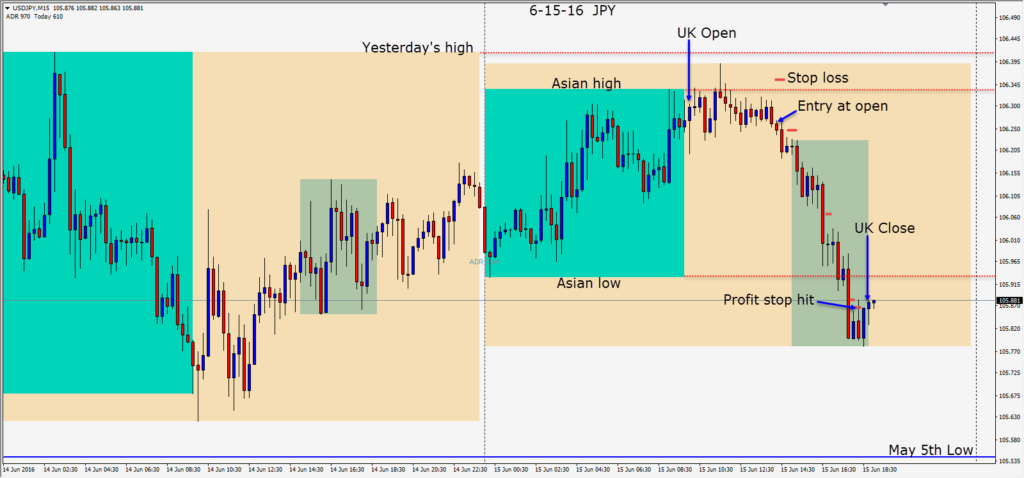 Although traders are very interested in hearing what Janet Yellen will say today and how optimistic she will sound… to determine if 2 rate hikes are still on the table for 2016, it will also be interesting to hear her comments on the last employment number.  The bigger concern for the market currently is the "Brexit Bremain" polls as the countdown continues to June 23rd.  Continue to be very cautious trading the EUR and GBP.
Good luck with your trading!