This is very similar trade to yesterday.  Oil is very important to the markets and the correlation to the USDCAD is extremely high.  The CAD crosses are also yielding to the Canadian dollar as oil climbs and will punish it as oil declines… in this current market.
Remember that vertical moves are not sustainable and if you look for signs of the slow down or reversal, you can be rewarded quickly as these moves tend to reverse and retrace… making a highly reliable pattern formation.
Today as oil increased the USDCAD came down despite the USD being much stronger overall today as the markets reacted to the BOJ surprise.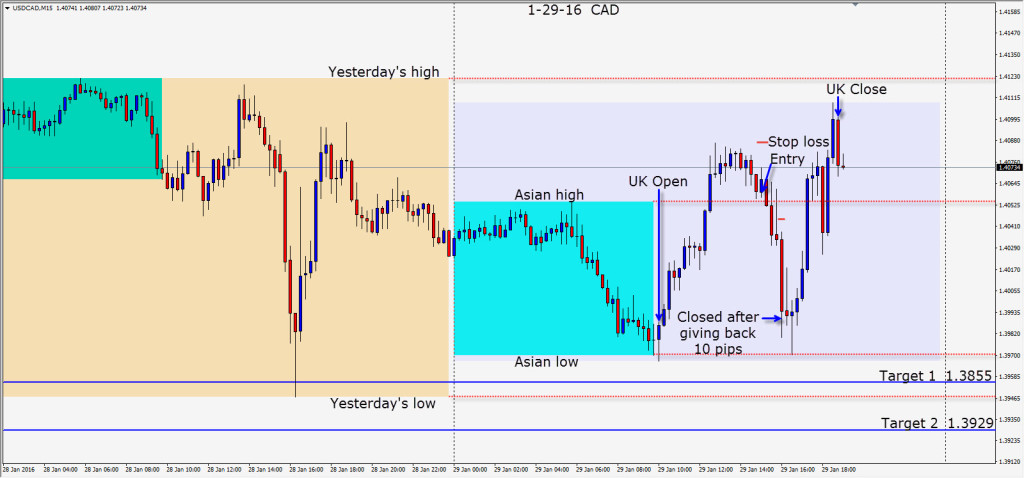 As the USD began to soften to the CAD, a short is taken with a 27 pip stop loss for a potential 130 pips to our Target 2.  As price approached its Asian low, it started to find buyers and after giving back 10 pips the trade is closed.  This is the opposite of yesterday when price approached the Asian lows and accelerated.
The CAD crosses are also excellent to trade with one eye on oil, but the stop losses were more expensive this session than the USDCAD.
Oil has had a good week and we can make an equally good case for it going higher as we can for it going lower.  This is why we read price!  A close above $34.50 near term will be bullish.  In the meantime, the Canadian dollar strengthens or weakens with the price of oil.
Good luck with your trading!  Enjoy your weekend!
Back next week.