Reserve Bank of Australia is very clear that their dollar is "uncomfortably high". As we have been reiterating for awhile now… we want to sell any rallies and look for short setups.
After the UK and European news was out of the way, the Aussie began to fade. An entry is taken requiring a 15 pip stop loss for a potential 47 pips to our Target 2.
Price dropped…retested yesterday's low and continued down to our Target 1 where we exit on the retest.
Be extra careful trading this week as volumes are down for the holiday season. This will be the last week of the trading year for us.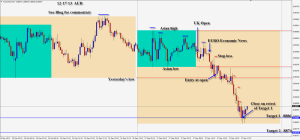 Good luck with your trading!
Back tomorrow if we can find a trade.