Another GBP short setup after 3 lower highs in the session.  Yesterday's short didn't get legs until the US session was underway.  After the US Advance GDP release, a beautiful setup occurred.  A long upper wick right after a news release… in my mind is a volatility aberration, so I don't mind placing a stop loss halfway down the wick.  True structure is above but 3 lower highs, news behind us, a beautiful 3 candle reversal (highlighted area) makes for a compelling entry with the trend.  The larger charts are very clearly showing confluence.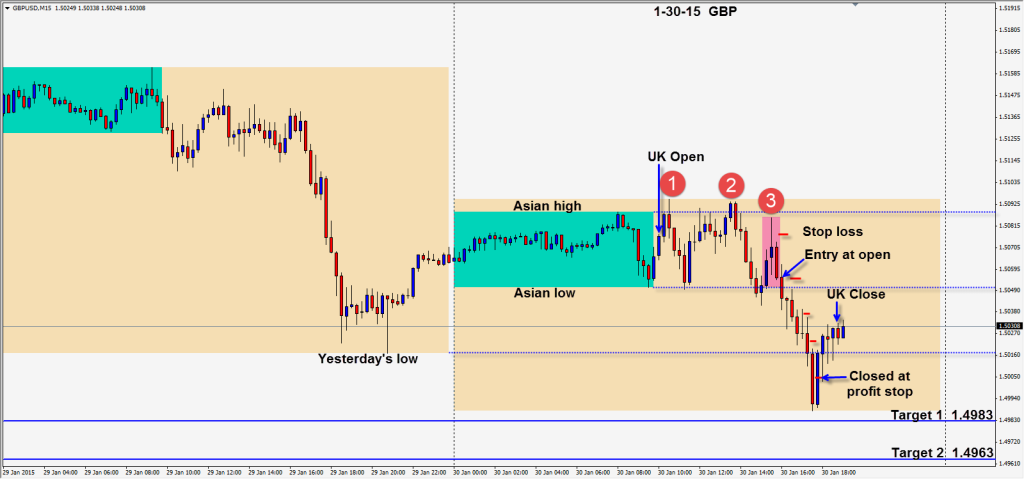 As price moved down the very large 1.5000 level is difficult to take out.  Price moves through it but cannot reach our Target 1 which was at 1.4983. Before price can come back up all the way to retest yesterday's low, we are taken out at "take profit" just above the 1.5000 figure.  Price needs to convincingly take out the 1.4950 level for a continuation move to the downside.  We will see next week if buyers emerge there – as they did today at 1.5000.
Commodity currencies continue to look weak and we are keeping our eyes on them.
Enjoy your weekend!
Back Tuesday if we find a trade.