Beautiful moves in the majors as we begin our abbreviated trading week. There was very little economic news in the session and the USD began to weaken with the US traders. All the majors moved well but the EUR offered the best entry.
It's been a while since I've needed Target 3, but it came in handy as price exceeded our Target 2 with considerable strength. This move was clearly visible with a tool that we use ( not shown here), which is used by a number of extremely large institutional traders and hedge fund managers. When one can get in behind them and ride a currency pair close to their targets, while protecting profits along the way, a very rewarding trade is realized.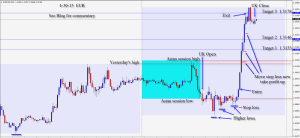 I love it when the month ends strong!
Good luck with your trading!