A beautiful short set up for the AUD after a very active Asian session. This is one of my favourite setups to catch and for those with quick fingers – the retracement move long, set up after the US session got underway.
There are 3 distinct groups of traders, usually with different itineraries in the course of a 24 hour trading day. The trading day begins with the Asian traders, followed by the UK traders who control the largest amount of volume, followed by the US traders who come on 5 hours later and overlap for 4 hours with the UK traders.
If you are aware of these periods and what the important levels are to these traders, you will find trading more profitable and enjoyable, but never think that it is easy!
After a very large range during the Asian session, the wicky candle forming a lower high followed by a bearish engulfing candle enabled us to find an entry meeting our minimum Reward to Risk ratio of 3:1 to our Target 2… for the UK session. We move our profit stop down successively as the trade moves in our favour. We would like price to reach the Asian session low before the US session news. We are not prepared to give back our profits if price moves back above Target 1 so the trade is closed.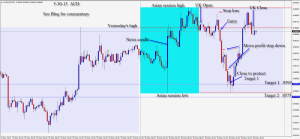 It's been a great week for trading, which makes up for the lacklustre week we had last week.
Good luck with your trading!
Back tomorrow if we can find a trade.