Many have been anticipating a stronger USD as President Trump's policies become known.  The DOW hit an historical high yesterday and closed above 20,000 for the first time.  As the trading got underway in London today, the GBP rose to its Asian highs testing breakout traders.  After leaving 2 candles with long upper wicks, price dropped to test its Asian low before moving down further.  Price made a small wave up to test the Asian low again and left 2 candles with long upper wicks, followed by a bearish candle.
An entry short is taken with a 20 pip stop loss for a potential 65 pips to our target at 1.2541.  Price moved down but lower wicks began forming and we tightened our profit stop recognizing that some buyers were entering.  Our profit stop was hit taking us out of the trade but we managed to catch a nice portion of the second wave down.  The first wave happened too quickly for us to find an entry.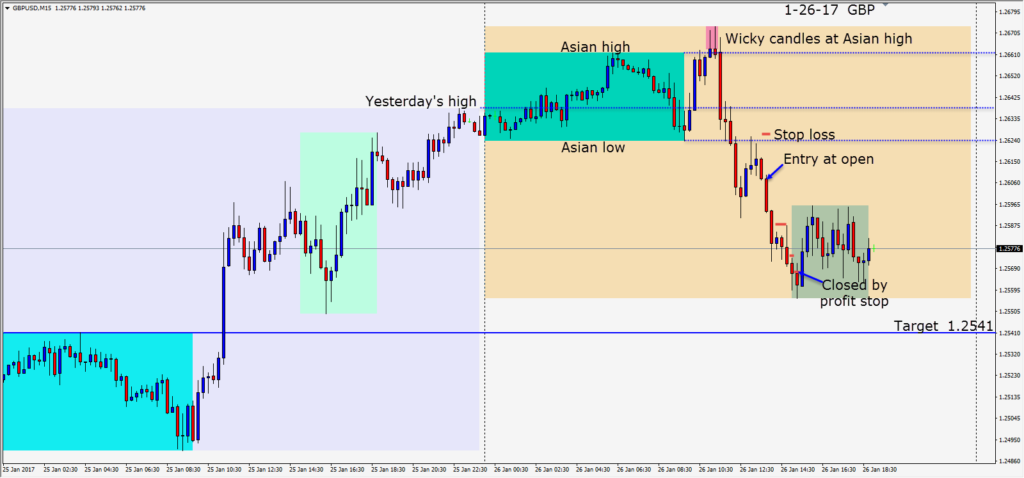 U.K. economic releases continue to indicate that their economy is doing fairly well.  The GBP has been beaten down due to Brexit fears of doom and gloom. It wouldn't surprise me to see the sterling strengthen going forward.  This may be easier to trade in the EURGBP cross than the GBPUSD.
Good luck with your trading!