As the US economic news releases continue to be soft, the USD continues to be sold off.  Trying to be too analytical about this gets in the way of nice trade setups and entries.  As an intraday trader it doesn't make much difference anyway as long as the technicals produce nice setups with good R:R ratios.  Money management and being able to read price are keys to trading success – not analyst expectations.
As the UK session got underway, the USD strengthened.   After the EUR put in a double bottom early in the US session and began to move up, an entry long is taken.  Our first test will be how price reacts at the Asian session low or to the Prelim UofM Consumer Sentiment release.  We protect ourselves in advance, so the worst case scenario is we have a small profit.  Price goes vertical after the release for two candles and we blast through the Asian session high and Target 1 in a single candle.  Vertical moves are not sustainable so we protect Target 1 and our position is closed.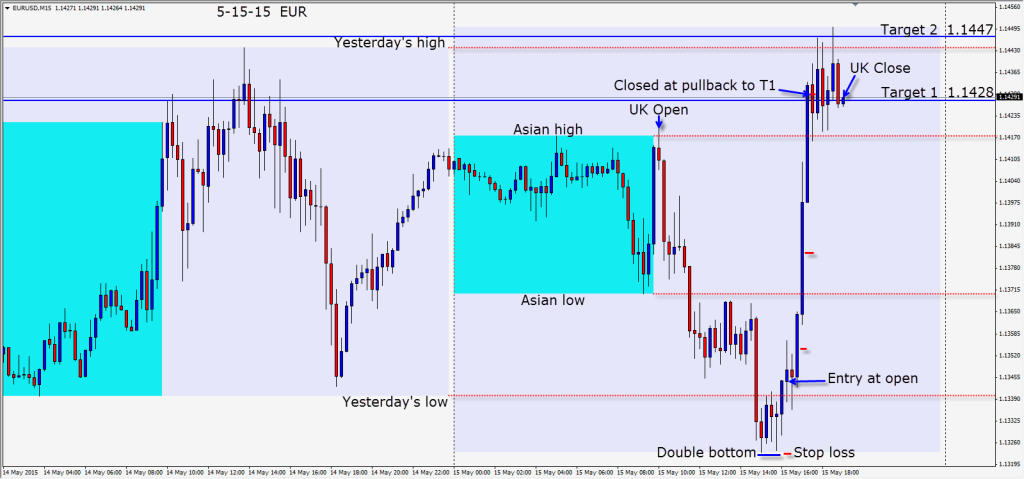 How the EUR reacts around the 1.1460 and 1.1500 figure will be very interesting to see.
The JPY also produced a nice short setup to trade toward the 1.1900 figure (not shown).  This pair is very range bound and appears to offer shorts toward 1.1900 and longs toward 1.2000 with caution around the 50 pip increments.
We will see next week what the sentiment is once again toward the USD.
Enjoy your weekend and good luck with your trading!
Back Tuesday if find a trade.