The never-ending debate about how soon the U.S. will raise interest rates continues.  Each economic news release is watched closely for a clue.
The month of June is quickly approaching and it's an important one for Greece and the ECB.  Greece has  interest payments, loan repayments and refinancing via t-bills throughout the month.  It will be interesting as Greece's Euro-area-backed bailout extension expires June 30th.
The EUR is approaching 1.1000 and if subsequently 1.0950 gives way…there is plenty of room to fall.  Many institutions are targeting par and below by year end.  Year end is a long way away and a lot can happen in the meantime!  A week ago the EUR was going up and the USD bulls were being squeezed.  Now it seems like the market can't get enough US dollars.
The EUR remains below a very important level on the Daily chart.  An entry short was found as the EUR began to roll over for the session…allowing for a 17 pip stop loss.  As price moves down, the lower wicks on the candles get longer as buyers are entering.  In advance of the US open and pending US economic news, we close half of our position to lock in 30 pips.  We then move our profit stop back up to plus 1 pip for the balance.  If the market goes against us, we will have locked in the equivalent of 15 pips – not a bad day.  With no risk left in the trade, we await the outcome of the US CPI releases.  The market moves down precipitously.  We allow a few pips of wiggle room at Targets 1 and 2 knowing vertical moves are not sustainable.  Very rarely do we see a large move after Target 2 is hit.  We tighten the profit stop down and the market takes us out for bonus pips.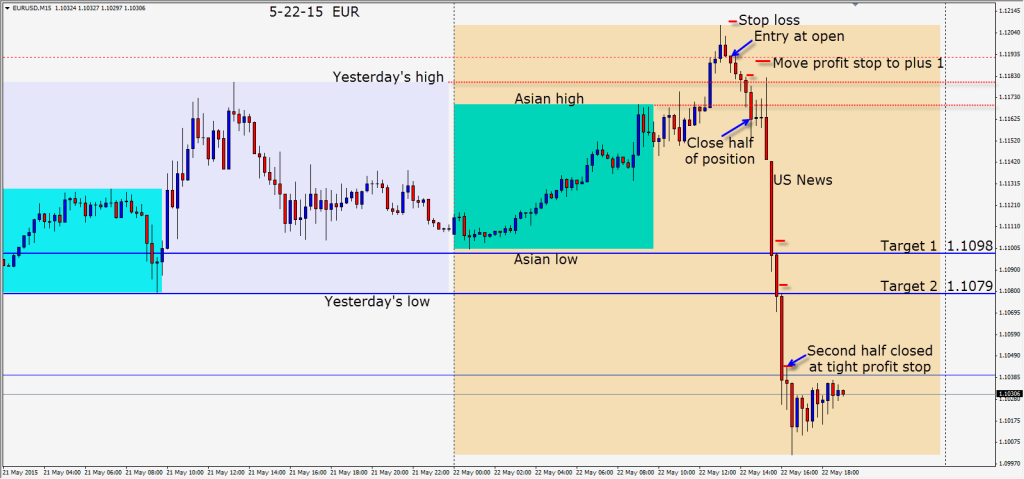 Trading is not easy but it tends to be fascinating and a lifelong learning exercise.
Interesting articles yesterday regarding the big banks and their market manipulations.
Enjoy your weekend!
Back Tuesday if we find a trade.