EURGBP moved up through our Targets 1 & 2 then showed signs of stalling and reversing evidenced by very wicky candles. Vertical moves are not sustainable for long and frequently are followed by vertical moves in the opposite direction. We enter short for a retracement and closely watch prices' reaction, firstly to yesterday's high and secondly, to the Asian session high. Price penetrates both and we allow a little bit of wiggle room just above the Asian session high. Price comes back above this level and closes the trade.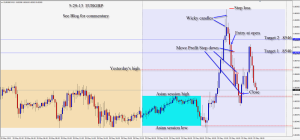 Not bad for a retracement trade and 20 pips on the EURGBP is equivalent to approximately 30 pips on a EUR trade. With a very light economic news calendar for the session, it was nice to find a trade.
Good luck with your trading!
Back tomorrow.