GBP moves up once the US economic news is out of the way. A nice wicky candle after the news caught my eye. We waited for further signs of strength before our entry. We then watch very closely to price's reaction as it moves toward the Asian session high, yesterday's high and the session high.
By protecting our profits and moving our stop up progressively – giving price a little wiggle room at each level, we are able to lock in modest profits before being taken out by the market.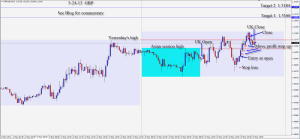 It was a slow week for us, as we were not able to find any trade setups on either Wednesday or Thursday.
Back on Tuesday if we find a trade.
Enjoy your weekend!
Michael