Both the AUD and NZD set up nicely. We chose the NZD because it enabled a smaller stop loss, but both pairs met our 3:1 Reward to Risk ratio criterion.
The UK session didn't take long to show an overall USD theme of strength. News other than for the UK was relatively light, with the German PPI number already out.
When I see a large move during the Asian session, I like to look for a reversal setup. The NZD showed signs of weakening and an entry short is taken with a modest stop loss. The 2 concerns were how price would react at yesterday's high and what effect would a series of UK economic releases have on the pair – if any? The risk is quickly removed from the trade and if it backs up against us, we will net a pip. As price moved down, we lock in more profit, but as it stalls and fails to push lower to the Asian session low, we exit the trade.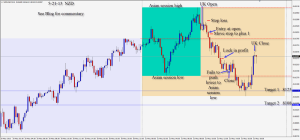 Let's hope for a great week ahead.
Good luck with your trading!
Back tomorrow if we find a trade.