An awesome week for trading the CHF. For some reason the CHF has been much easier to find entries this week than the EUR. I always confirm EUR trades by looking at the CHF for an inverse correlation. In other words, if an entry has set up long on the EUR, then a similar entry short is typically seen on the CHF and vice versa.
Although the EUR is more widely traded and has the better spread, the CHF has had better entries all week. I teach my students to scan the major pairs and take the easiest entry that conforms with our trading rules.
Some traders will trade both the EUR and CHF simultaneously in opposite directions. I prefer to choose the better setup and trade only one. Firstly, it's easier to watch and manage one pair than two. Secondly, I would be doubling my market risk exposure by trading 2 pairs. I prefer to put my eggs in one basket at a time and watch that basket very closely.
Trading is not just about finding the market's direction and trading accordingly. It is about managing risk, protecting profits and keeping losses very small as well. My mentor who trades in the billions of dollars, always says that you can get everything right in trading, but if you don't manage your risk, you can lose everything. He's been trading for over 40 years, and has seen this occur many times.
The CHF meandered down after the UK open and found Buyers at the Asian session low. With no news to stir things up, and entry is taken long with a relatively modest stop loss. Price moved higher through our levels with a little hesitation around yesterday's high before moving up to our Target 2. As price approached Target 2, it looked like it would go right through it. Instead it touched it and began to reverse. After giving it a few pips of wiggle room to get through it and continue moving up, we instead close the trade giving back a few pips…but that's trading.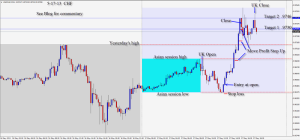 Our trading Targets 1 & 2 are a cornerstone to the methodology. They enable us to determine our Reward to Risk ratio and protect our profits. They are statistically significant with very high probability, as many institutions will be taking their profits near the zone between Target 1 and Target 2.
Back Tuesday if we find a trade.
Good luck with your trading!
Enjoy your weekend!