GBP sets up nicely as the US traders begin their day. After a holiday in the UK and US yesterday, the GBP made a familiar move to the downside – rewarding us with a good size move.
This trade set up meeting our minimum Reward to Risk ratio of 2:1 (for the US session) with a risk of 24 pips for a potential 80 pips to our Target 2. As US news approached we tightened the stop to 10 pips as the volatility could easily take out our initial stop placement which was too much risk for us around news today. No one likes to start the week getting stopped out, and we were willing to stay in the trade risking no more than 10 pips.
We move our stop down to protect our profits and are closed out protecting Target 1 after 2 wicky candles.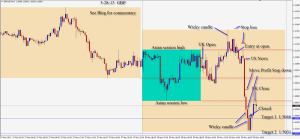 It's a fairly light news week.
Good luck with your trading!
Back tomorrow… if we find a trade.