Be very careful at this time of year as the market is less predictable and money flows are down. Positioning is light and we await the FOMC next Wednesday. Next week could prove to be interesting as we approach the holidays and year end.
Keep it simple and trade with the trend – which is USD strength! The EUR is weak and very vulnerable near 1.2500. The commodity currencies are weak as commodity prices fall and China's numbers soften. The Canadian dollar is vulnerable with the current lower oil price. The Japanese yen is weak, the EUR is weak, the Swiss want a weaker franc…
China's industrial production y/y number missed expectations which impacts Australia. A similar setup to yesterday with 3 lower highs was the entry signal and required a very small stop loss. Price moved down, but lost its momentum below the Asian low – where buyers entered. We had hoped to test yesterday's low and get down to our target 1 at .8199 and our second target of .8181 but it didn't happen.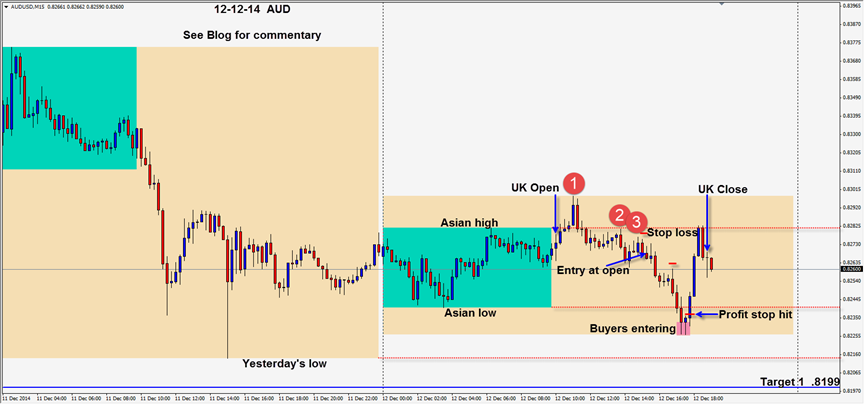 I will continue to look for setups with the trend and fading any rallies of temporary USD weakness. Watch key levels and wait for the Big Boys and Girls to show you how easy it is for them to take money from weak hands. Try to think like them and trade with them NOT against them!
Good luck with your trading! Enjoy your weekend and happy holidays!!!
Back on Tuesday if we find a trade.