With the FOMC behind us…the EUR is moving lower toward its Dec. 8th low.
Entering a trade in the middle third of the Asian range is not typically a good idea.  If I have a confluence of reasons, and the stop loss is affordable, then I will make an exception.  After a triple top, we waited one more candle, and the next candle closed below yesterday's low.  With the selloff after Yellen's speech and price breaking below once again, this is a good hint as to the direction the market is moving.  We have a triple top, a break below yesterday's low, the larger charts are bearish, a 4:1 R/R to our Target 2 (not shown I would have to compress the chart too much) and the trend is down!  The Dec. 8th low is going to be a little sticky most likely to get through.
Dec 8th low – 1.2246
Target 1 – 1.2234
Target 2 – 1.2213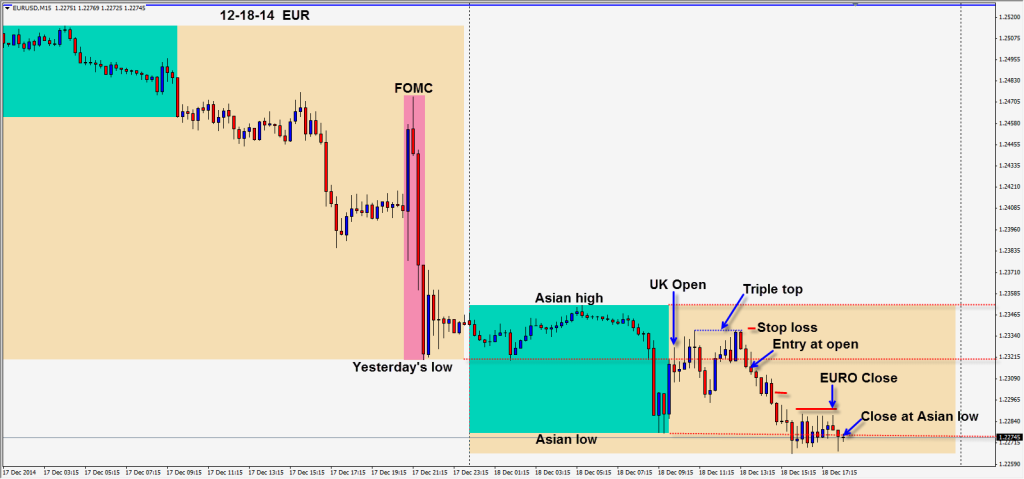 As it turns out price stalls at the Asian session lows – goes sideways and we exit there after exercising considerable patience.
Be extremely cautious entering a trade in the middle of a range…it's known as the "killing zone".
Back tomorrow to finish the year…if we find a trade.  Otherwise, have a wonderful holiday season and see you in January.
Good luck with your trading!
If you have any questions, send me an email.