The EUR has been trading between 1.2350 and 1.2500 for over a month – with very few days above and a very few days below.  As the UK session got underway price moved up.  Our upside Target was 1.2529 for the day and as price climbed beyond it, we awaited a reversal setup – as our preference is to short this pair.  As the US traders began their day, the pair immediately reversed and an entry is found with the trend – short.
Price continued to move lower and we moved our stop loss down to plus one pip after we see a large bull candle.  The worst case scenario is we are taken out positive one pip and that's still a winning trade!  Price continued lower before bouncing off yesterday's high late session and we close at the low of the previous candle to lock in our gain.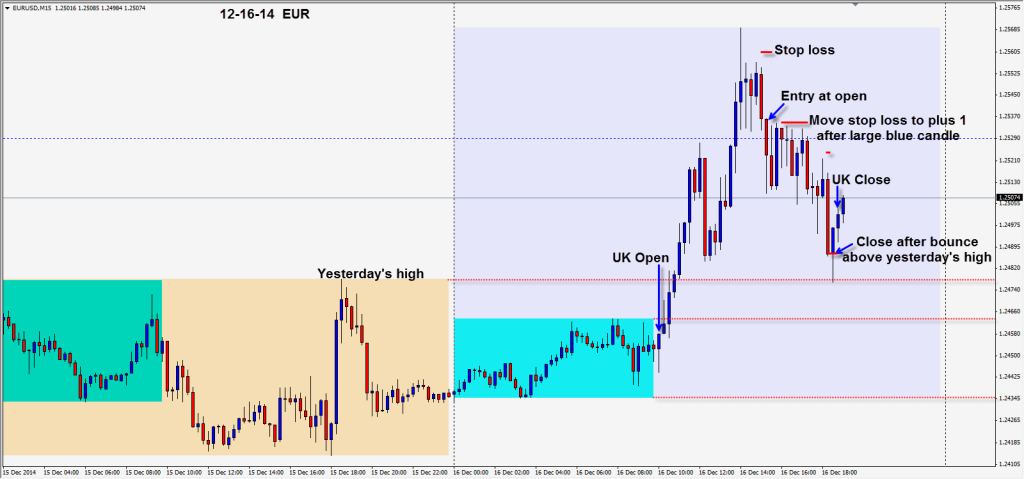 The main risk event for the week is the FOMC tomorrow.  Volumes are lighter going into the holiday season which means markets will be susceptible to one-off flow driven moves.
Keep your stops tight.  Over the holidays is a great time to hone your trading skills if you have some free time.
Good luck with your trading!
Back tomorrow if we find a trade.