If you can recognize reversal patterns setting up on a 15 minute chart, you actually have an edge over the 60 minute, 240 minute and Daily traders.
As the UK session got underway the AUD moved down and lured in the breakout shorts. Price reversed and closed strongly within the Asian range – well off the lows. An entry long is taken with a stop loss below the session low. Price makes a familiar 3 Drives pattern higher but sellers emerge just below yesterday's high. With the bearish wicky candle closing, we exit the trade. As the sellers are entering and we know near the .9000 figure will find more short position traders, we await for the setup. Two candles later we clearly have a 3 candle reversal and a short is taken with a stop loss above the session high.
Price drops and our first goal is to complete one of our favourite patterns which involves taking out the Asian low. If price can do this without much of a retest of the level, we may see our Targets 1 and 2 hit. As the session winds down, we only make it to the Asian low before the retest above closes our position.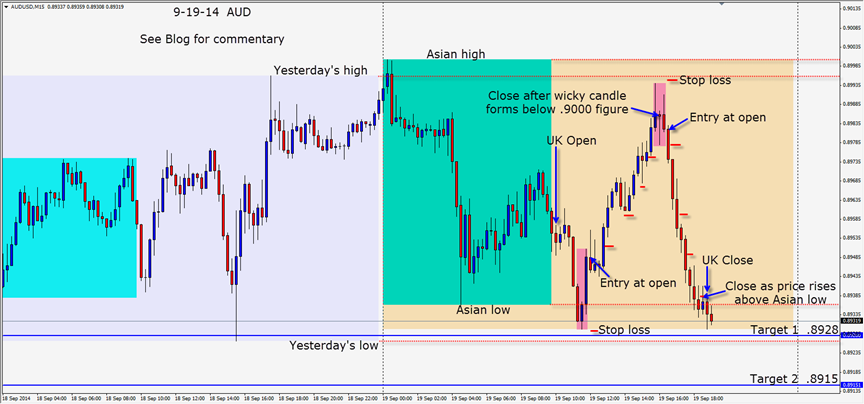 There was a very nice and quick trade early in the session with the GBP. Initially the GBP rose in the Asian session and then began to fade. If you look at the 240 minute chart and you know what the institutional traders are looking at – you will see that price stopped to the upside at a significant level. By the time the UK session started, price was in the middle of the Asian range – not an ideal place to take a trade… 9 times out of 10.
However having seen where price had stopped to the upside and was now making waves to the downside with lower highs, an entry short is taken with a stop loss above the session high. Price does not disappoint and moves quickly down to our Target 1 level…retests it and plummets through our Target 2. We exit as price begins to bounce back as the bounce is exactly where the institutional 60 minute traders will become active… and did.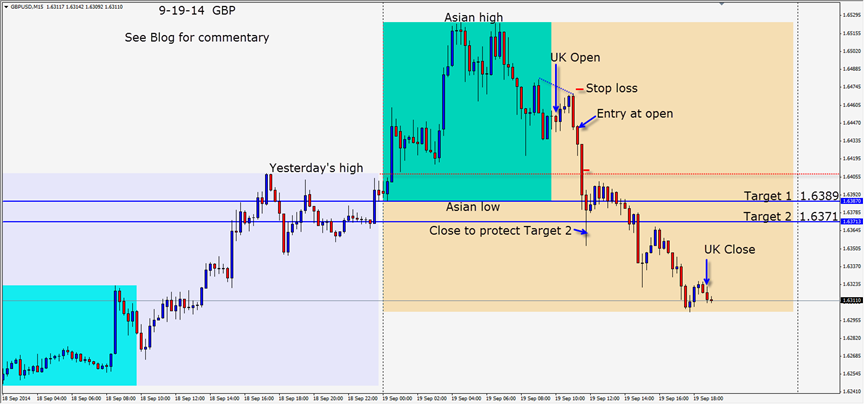 This has been an excellent week of trading.
Although the GBP has been very active and lots of fun to short of late, now that the result of the referendum is behind us, we are less inclined to think that it will go much lower from here near term. Watch the USD strength and consider the EURGBP as an alternative trade if the GBPUSD chart is looking unclear.
Please don't waste your time using oscillators as I did in my early years of trading. Learn instead what the BIG MONEY – the instiutional traders use and trade the same direction…with them.
September has shown the currency markets are very active and trends going into year end appear to be setting up. This may be a very profitable few months of trading for those that know how to trade, what to look for, how to read price, how to manage risk and how to put on appropriate position size trades. If you are a swing trader or intraday trader and you want to learn how to capture large pieces of the moves and which pairs you should be considering trading – contact me about my course. If you are prepared to put in the hours, you stand a good chance of being successful. Trading is very difficult and requires hours and hours of practice. If anyone tells you it's easy – hold on to your wallet and run!
Enjoy your weekend!
Back Tuesday if we find a trade.
Michael