The Asian session was very active. When the UK session got underway, it left little room for traders to make money trending the pairs any further to the downside.
Once you realize that a pair statistically will move only so far in a given 24 period typically… then you keep your eyes open for a reversal when a new session of traders begin their trading day. It's a very rare exception, when the majors will put in twice their expected range. It does happen, but it is usually a result of a very unexpected comment by the US Fed or ECB etc, a geopolitical event, or something really unforeseen that changes the sentiment of the financial landscape.
The GBP had moved down to our Target 1 by the time the UK trading started. A familiar and textbook trap is set luring in breakout shorts – followed by 2 higher lows. An entry long is taken with a stop loss just below the Asian lows. We keep this tight as US PPI is due in 30 minutes. Price moves up and we are hoping for a reversal completion to the Asian high. Price moves up making a series of higher lows but loses momentum at yesterday's low. Suddenly in the last 15 minutes of the session the GBP begins to spurt up… pushing through our targets 1 & 2, yesterday's high and keeps going with momentum to the 1.6300 figure. This is an exceptional move and the other majors showing USD weakness across the board. At the first hint of weakness above the figure we clicked out and that was a beautiful move!!!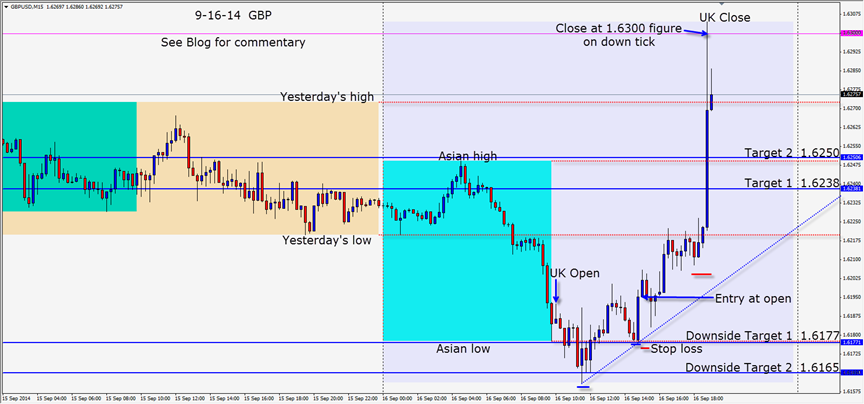 When you get one of these sudden moves, you need to know where your targets are…because vertical moves are not sustainable. The market stops at and reverses for a reason – it is not capricious. Learn what to look for and you will be rewarded. If you are just guessing, you can lose your money quickly,
Good luck with your trading!
Back tomorrow if we find a trade.
Questions Michael@privateforexcoaching.com