Thursday has lots of news pending and the Scottish Independence vote will be very important to the GBP.
Today a countertrend long set up after the breakout longs were washed and rinsed. Price makes a series of higher lows and closes above the Asian session high. This is a countertrend trade so it's better to take a smaller position – more like a half size position and keep the stop a little tighter than usual. In this case, a stop is placed below the most recent higher low and allowing for some wiggle room at the Asian highs. Price likes to retest levels!
Price subsequently rises and retests yesterday's high before moving through our Target 1. This is countertrend trade so our confidence level is lower than if the trade is with the trend. As price fades a few pips and comes back toward our Target 1, we exit the trade. We are also aware that above our Target 2 is a dynamic level where institutional shorts may add to their position short trades. We are happy to be in and out…well in advance of the referendum result, FOMC and all the other news pending tomorrow.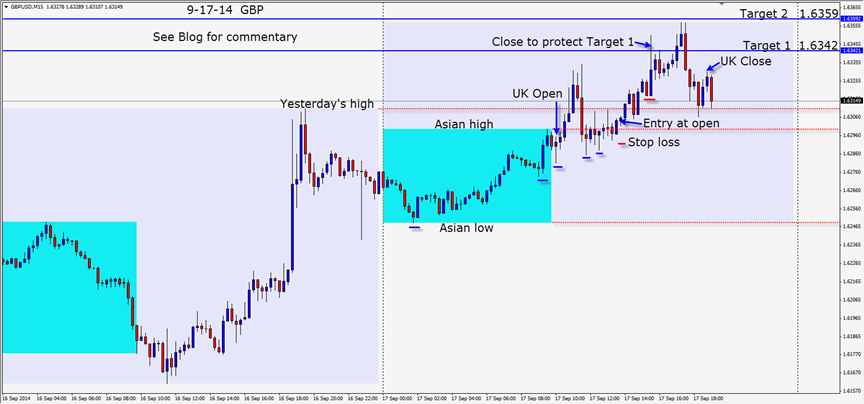 Higher lows and lower highs are very useful for traders to read market direction. There is a trick to reading whether they are indicating acceleration or deceleration. If you learn this technique it makes entries and exits easier to see in advance.
Good luck with your trading!
Back tomorrow if we find a trade.