Tighter ranges are seen in the majors as the holiday season approaches. The EUR continues to trade higher and ECB President Draghi continues to voice optimism and stability.
Institutional traders continue to be buyers, but we are approaching the 2013 high, so be very cautious. This level will likely be tested and retested… if not rejected. It is a critical area!
Our trading style is not about prediction but of observation and following familiar setups that meet our Reward to Risk ratio criterion. We found an upside break in the range after price had traded sideways awaiting President Draghi's comments. With a stop loss of only 9 pips, and no US economic news to create havoc, we enter long. As price moves toward our targets, we vigilantly observe what it tells us at significant levels.
As soon as a big wicky candle appears, we tighten our profit stop… price fails to reach our Target 1 and we are closed out for modest gains.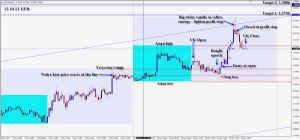 Good luck with your trading!
We will be travelling tomorrow, so if there is a quick trade before I go, I will post it.
Keep stops tight and don't be greedy.