A very late session trade set up with the JPY. After 3 failed attempts to close above the mid Asian session level, a reversal candle is seen and a short is taken.
The Reward to Risk is greater that 2:1 to our Target 2. We prefer 3:1 but once the US session is underway, we consider 2:1 R/R trades.
Price moved down and paused at yesterday's low before moving down and almost reaching our Target 2. We close the trade as price reverses back up to lock in profit at Target 1.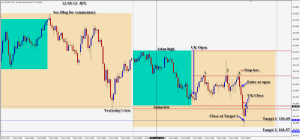 The market has been very news sensitive this week and trading setups have not met our Reward to Risk ratio minimums. Last week was very easy and this week is much more challenging. We stick to our trading rules and stay on the sidelines when the setups aren't there.
We don't trade on NFP Fridays…back on Tuesday if we find a trade.
Good luck with your trading!