The GBP set up nicely for a short and made a sudden move to the downside. Sterling had made a series of lower highs and as the UK session got underway, selling continued near the 1.6350 level. This was where the European traders also began to sell it when they came on. A 3 candle reversal pattern sets up the trade entry and price drops quickly.
After the initial drop, price does not come back to retest yesterday's low or the Asian session low, and if it had… being closed out for a quick 15 pips would have been fine. Price continued to drop… closing very bearishly each candle. The trade is closed after 3 candles to avoid giving back any of the gain. When price drops this fast without a pullback and is at or near one of our targets, take profit and don't be greedy.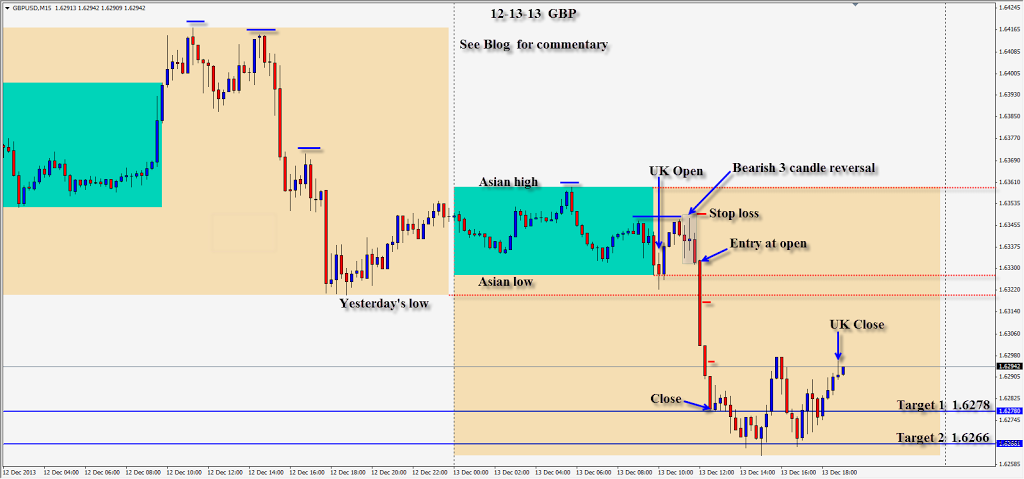 Institutional traders have been commenting on the lack of volume this week. Next week will likely be even lighter. This is a tricky time of year to trade, so be ultra selective in choosing your trade setups or come back in January.
The EUR hasn't made it back up to its Oct. 25th high. Sellers have entered near the 1.3800 level. The options barrier is yet to be tested, but the month isn't over. It will very interesting to see if the 1.3832/5 level is run next week. Stops have be building above 1.3800 for shorts.
Good luck with your trading!
Money management is paramount to trading survival. I hope you have had a very profitable year and progressed well as traders. Contrary to what many forex marketers will tell you, trading takes lots of time, study, dedication and experience to become good at…just like any other worthwhile profession.
Happy Holidays to everyone!!!
Back in January.