NZD set up for a short trade after the UK economic news releases, and in advance of ECB President Draghi speaking. After the UK news, the EUR, AUD & NZD turned down and the CHF turned up. After a vertical move up when the UK traders began their day, the NZD came down vertically making for a quick trade. Although it would have been nice to have reached the Asian session lows before President Draghi spoke…it wasn't to be and we don't like to give back our profits… so we exit the trade after the wicky candle as price begins to retrace.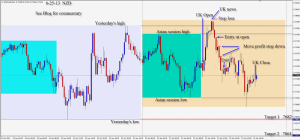 Good luck with your trading!
Back tomorrow if we find a trade.