For the second day in a row the AUD sells off in the US session at the same time, which today corresponded with the second round of US economic news. As the Pending Home Sales number is released the AUD began to rise and is quickly reversed by sellers – in a zone which had been evident all session.
A short trade is taken as price retreats below the previous candle's low. Two tools that we use made this trade setup very attractive. As price comes down, risk is removed from the trade and profits are protected by moving the stop down as shown. Price is unable to close below the Asian session low, and we are subsequently closed just above it – when price hits our profit stop.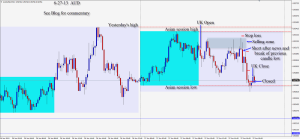 Let's see what Friday brings to conclude the month.
Good luck with your trading!
Back tomorrow if we find a trade.