The FOMC statement yesterday created lots of anticipated volatility. This was followed by more subdued markets today – despite lots of economic news releases.
The CHF set up nicely for us, but it had a lot of difficulty penetrating yesterday's high and the Asian session high. Once it did… buyers entered the market pushing it back up as evidenced by the candles with the long lower wicks. If price can't go down, and long wicks form, be very careful… as price is likely to reverse. Coupled with more economic news releases and pending stock market openings and it's best to protect any profits or get out of the short trade.
I was taught years ago…that if price doesn't do what its suppose to do – GET OUT of the trade!
I like to enter trades with either a minimum Reward to Risk ratio of either 3:1 to our Target 2 during the UK session, or 2:1 R/R once the US session has commenced. I also like to remove risk from a trade as quickly as possible. By moving one's initial stop loss to plus 1 pip, risk has been removed from the trade and the worst that can happen – is the market takes you out for plus 1 pip.
As price had difficulty closing below yesterday's high, the stop loss is moved to plus 1 pip, once the wicky candle appeared. With more US news approaching, the profit stop is moved to plus 5 pips. As price seems to have difficulty moving lower and giving back pips is never fun, the trade is closed as it retraces above the previous wicky candle low to lock in 25 pips.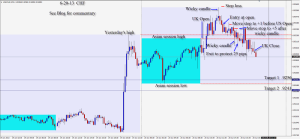 Good luck with your trading!
Back tomorrow if we can find a trade.