The EUR was fairly active in Asian session. The European traders pushed the EUR down hard as they began, and the UK traders brought it right back up, to set up their move to the downside. We always look at a Daily chart first for perspective in advance of trading on a 15 minute chart. There were 2 very clear signals for us that the EUR would most likely move down… and it did!
I tend not to trade in front of major economic news releases, but the Italian 10 year bond auction is not one that I am particularly concerned about these days when trading the EUR…nor the Spanish 10 year bond auction.
This trade moved very nicely down and took us to our Target 2 just as the US traders were beginning their day.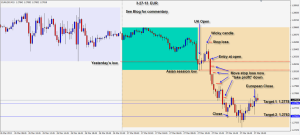 We could not find any trades yesterday, so it was nice to find one that met our 3:1 Reward to Risk ratio to our Target 2 today – on what will be a short trading week with Friday being a holiday for us.
Back tomorrow.
Good luck with your trading!