The majors have been moving well once US markets open. The CHF offered a better setup than the EUR during the session. As the UK session got underway, price gyrated up and down testing breakout shorts, before it finally broke to the downside convincingly – setting up a 3:1 Reward to Risk ratio trade for us. Price came back one more time to almost test the Asian session low before moving lower.
As the US session approached, we removed the risk from the trade by placing our stop loss to +3 in the event of a reversal. Price retraced briefly, but did not stop us out. As the US stock markets began to move up, the US dollar began to weaken, and the pair dropped to our Target 2 and beyond. We closed the trade as price moved back up off the low-of-the-day toward our Target 2.
It is a little unsettling to see Germany miss some economic forecasts this past week. We are intraday traders not position traders, but if Germany's economy shows some cracks, this will not bode well for the EUR. It has been very encouraging to see the US economy show some signs of strength this year, and we hope Germany will show strength going forward.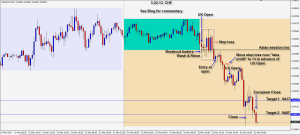 It's been another good week to trade and we look forward to next week.
Good luck with your trading!
Back Tuesday.