CHF produces a tiny risk setup in advance of the ZEW release. With an 9 pip stop loss, what's the worst that will happen? The Asian session with very moderate with Japan on holiday.
The UK traders began their session first testing the Asian session low to lure in breakout sellers then reversed upward. The CHF found sellers just below the top of the Asian range and we entered short. The stop was so small that I didn't mind taking this in front of the news. The CHF tends not to be a particularly volatile pair. The pair moved down and we moved our stop loss down to plus one just before the news. We manage to gain a few more pips before closing for 20.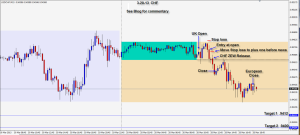 We will see what tomorrow brings.
Good luck with your trading!