A familiar pattern emerged with a move above the Asian session high to lure in the breakout traders. Price then pulls back and chops back and forth between the mid and top of the Asian session range. The candles have an identical but opposite direction setup as yesterday. The Reward to Risk is greater than 4:1. We go long, price tests the Asian session high and yesterday's high before moving toward our targets. Unfortunately a very wicky candle appears indicating a potential reversal. We close the trade for modest gains. The trade appeared to have lots of potential but it wasn't to be.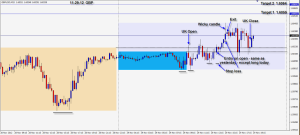 Let's hope for a nice move tonight to end the trading week.
Good luck with your trading!
Back tomorrow.
Questions – Michael@privateforexcoaching.com