The EUR which has been moving up all week finally gave us an entry. After making a series of higher lows, the UK traders test the Asian session high, then it pulls back down with all the news releases, forms another higher low, followed by a very bullish engulfing candle. With a stop below the higher swing low, and a reward to risk of greater than 3:1 to our Target 2, we enter long. We anticipate a test and retest of the Asian session high and vigilantly watch price action. Price rises through the Asian session high, makes a shallow pullback forming another higher low above the Asian session. Price then proceeds to our Target 1 – a level of profit we always protect! Price does not close above it and we close the trade happy with what the market has offered.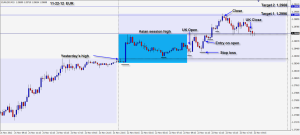 Always pay close attention to yesterday's high and low and the Asian session high and low. Watch how price reacts around these levels.
Happy Thanksgiving USA.
Best of trading!
Questions Michael@privateforexcoaching.com