Optimism returns to the market. The GBP had an exceptional session and was catapulted to the upside by the US traders. After a tricky 2 weeks, we are rewarded with a very large upside move. This trade could have been a loss, if the stop loss had not been below structure.
Price made a familiar pattern of enticing breakout traders into the market, then pulled back. Our criterion of 3:1 minimum Reward to Risk was met. After our entry, price pulled back one more time, before rising back into the Asian session, where it retested the low, and then moved up. By protecting our profits in the usual manner, and not being greedy, we were able to exceed our profit level considerably.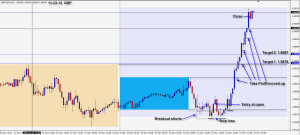 Trading is best taken one day at a time. Some days are difficult but some days are extremely rewarding. There appears to be some surprisingly positive news lately and the trading ranges are expanding once again.
Have a wonderful weekend!
Back Tuesday.
Questions… Michael@privateforexcoaching.com