After a wonderful Thursday, there were no clear setups for me in the majors overnight. It's never a good idea to give back your money after a great day of trading, by taking a poor setup. Stick to the rules and be rewarded.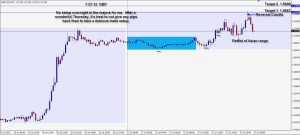 As I don't like Sunday/Monday trading, my next chart will be from Tuesday's session.
Questions are always welcomed.
Have a wonderful weekend and enjoy the Olympics