Tricky trading of the GBP overnight but some useful tips come from it. Never trade an early breakout…wait for the retest and confirmed signs of trend direction. Be aware of range bottoms and tops as well as the previous day's highs and lows. When looking at last night's GBP there is symmetry in its pattern as it oscillates. I was taught to have uncluttered charts and to step back and look for symmetry. If you move up to a daily chart or just scroll back through an hourly or 15 minute chart, you will frequently see reoccurring patterns of symmetrical price movement.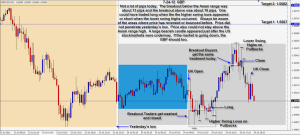 If you went long last night or short this morning, it's prudent to keep a tight stop near the top or bottom of the range and not give back your gains. Don't be greedy and accept what the market offers.
If you are new to this blog, read through the other posts and you will find many tips that can be applied over and over to your trading. If you would like to learn more, please contact me for details about my private coaching.
Good luck in your trading!