It's been awhile since I posted a trade and the market has not been too revealing of its direction…yet.  The first 2 weeks of January had low liquidity with many traders being on holidays.  The third week of the New Year was potentially very volatile as there was major economic news daily and the inauguration of President Trump.
Yesterday the USD was quite weak, but I'm not anticipating that to last long.  I've been awaiting confirmation of a strong USD trend to emerge, but haven't seen it yet.  The markets are trying to determine what effect President Trump's  policies will have going forward.  When that becomes a little clearer, the markets will be more revealing of direction.  In the meantime, it's always a good idea to follow your disciplined trading plan and trade what you see – not what you read or necessarily think.  It will be a fascinating year and we live in very interesting times.
The U.S. is Canada's largest trading partner and business is appearing to be as usual at the moment with the new president – which is very bullish for Canada. With a  move up in oil today, and an optimistic outlook for trade between Canada  and the U.S., the USD began to move down against the CAD as the U.S trading session got underway – breaking the range of its previous 2 hours.  A short was taken with a 28 pip stop loss for a potential 110 pips to our target.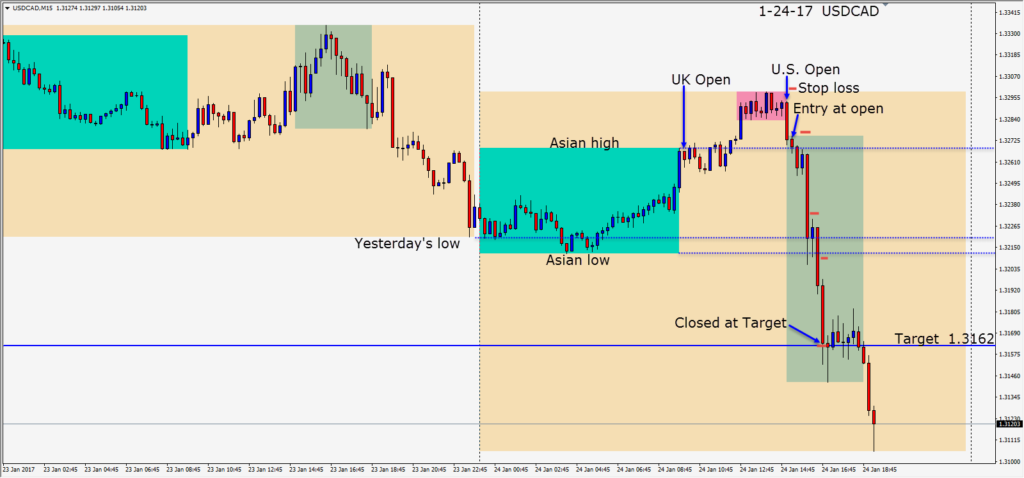 The trade moved quickly as price descended to test yesterday's low, the Asian session low, and moved to our target – where we exited and the move stalled until after the London session ended.
Unless oil continues to move up, the 1.3100 level is likely to prove difficult to get through.  If WTI moves higher toward $55 barrel and the USD weakness continues, then we may see the 1.3000 level tested.   At the moment 1.3080 looks like a good support level.
Good luck with your trading!