The major event risk for the week was the ECB statement today and how the markets would react to Mario Draghi's comments.
The EUR plummeted and it's never prudent to chase a trade!  It's better to let the dust settle, analyze your pairs for confluence and use proper money management including R/R.
When the dust settled today, the US stock markets were moving up as was oil.  This tends to be bullish for the USDJPY  as the JPY is not only a funding currency but also a reserve safe haven currency.
With a greater than 2:1 R/R… which I am comfortable with once the U.S. market is open, a long position is taken following a fourth higher low combined with a reversal setup. Price moved up to test its Asian high, yesterday's high, Target 1 and tagged Target 2 fairly quickly. We closed at T2.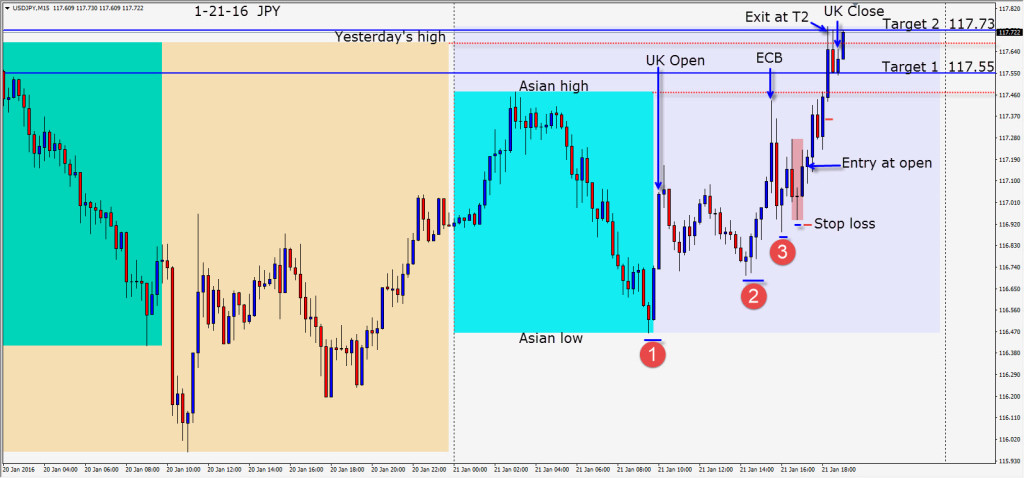 It's a  new year but after ECB President Draghi's comments today my bias remains the same for the EUR.  Will we see par and below this year?
A bounce in oil today but have we seen capitulation…I don't think so yet… but we will keep an eye on the $30 WTI level.
Know what to look for and trading becomes much easier.  Using oscillators and ambiguous indicators and tools that institutional traders don't use will result in inconsistent results.
Good luck with your trading!
Back tomorrow if we find a trade.