Much quieter session after yesterday's extended moves. It really was hard to find a trade as the pairs just weren't moving or very convincing. After the fourth lower high, the NZD looked like it would move down. The stop loss was very affordable above the Asian session high, but if the third lower high was taken out, I would close out, as the US session and news was approaching. Moving the stop loss to plus 1 pip took the risk out of the trade and we managed to get a few pips before it stalled in its descent at the Asian session low.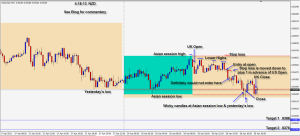 Let's hope for one more nice move to end the week, but we will be meticulously picking the best setups as always. We do not want to give back any pips after what has already been a stellar week.
Good luck with your trading!