Nice to see positive economic numbers for the UK and US this session. However, the US traders decided to push the EUR down to the Big Figure – 1.3000 once their news was out of the way. We patiently waited for an entry short and were rewarded. Some days you wait for hours and nothing seems to happen, other days once you enter the hours tick by with nothing happening, and then some days you are rewarded right away. It's been a slow week, but it picked up today with our targets finally being hit.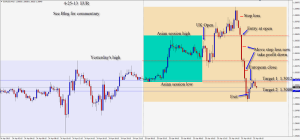 Good luck with your trading!
Let's hope for another nice move to end the week.
Back tomorrow if we find a trade.